Going to the
The Nutcracker
was so much fun! It really made me feel like a little girl again, I just sat there in glee and kept (most likely irritatingly) whispering to my mum in excitement that I remembered the songs and so on.
Classical ballet took the bad taste contemporary dance left in my mouth away, thankfully. As I mentioned, I went to see a dance performance the day before the ballet, and I had to leave after 15 minutes.
I have a great appreciation for ballet, as it is a centuries old art form. I suppose contemporary dance can also be viewed as an art form, but it looked like a lot of undignified flailing, jerking, crotch-flashing and unnecessarily sexual touching to me.
The reason touch in ballet doesn't offend me is because ballet, above all qualities, is elegant. Contemporary dance, to my eyes, is not, and therefore has no dignity. Ballet is also so poignant, whereas contemporary seems to strive for embarrassingly raw emotion, and falls short of the two latter words.
I like to think that one of my mottos is 'dignity, always dignity' (fantastic quote from
Singing in the Rain
) and would prefer it if the majority of people would decide to strive for some semblance of it.
As the majority of little girls do, I went to ballet classes when I was young, but had to discontinue them upon our move to Ireland as I didn't have access to lessons. I still harbour a secret desire to be one of those flawlessly elegant, incredibly petite prima ballerinas who appear to float on the ground the walk on...
I suppose it's better that I didn't manage to continue lessons, and be disappointed in later life, because by the time I was 13 I'd nearly grown to my full height (5'8, 173cm) after being quite petite for many years, so there's no chance I could ever have been one. I can still dream though!
I spent a while looking on Youtube for Tchaikovsky's Dance of the Sugar Plum Fairy - my favourite! It sounds so mischievously gleeful and dreamy, like a child stealing candy. But I found more bastardized versions of the Nutcracker compositions (i.e. a 'trip-hop' remix) than the real deal... Everything else was covers, glass and acoustic versions.
However, below is the actual composition, albeit fuzzy. Enjoy!
I got to 'feed' my Christmas cake today! It went quite well for my first time doing it - funneling brandy through wax paper into a cake that's mainly dried fruit is more fun than it sounds. Apparently I'm still not allowed to set it on fire though, but my mum have acquiesced to give me a slice when it's ready, let me douse it in liquor and set flame to it. My holiday season will be complete!
I didn't really buy anything much yesterday - I back to MAC'd for two lipsticks.
H&M's collection had 2 colours which I got very excited over, the perfect shade of forest blue-green and the perfect blue-toned deep purple. Unfortunately the pieces of clothing attached to the colours did nothing for me apart from widening my upper half, which made me sad, and I ended up buying a black jumper (which is just a basic I sorely needed, but still...)
I'm trying to save money - I keep making myself think 'you will not be seduced by anything that is not first rate' so that perhaps one day I can actually buy the designer pieces themselves and not the knock-offs, which inevitably wear and tear so much by their sixth use, that they look too shabby to have a hope of passing by my disdain.
I'm sorry for the bad quality of these pictures, it was quite dusky outside by the time I got back to my camera, and I have a great dislike for using flash...
On the right is Please Me (matte) and the left Creme Cup (cremesheen) I know they look ridiculously similar in this photo, but they are different in natural light - subtly, yes, but still different. Please Me is far more pink, and is very creamy and pigmented, and Creme Cup is more beige toned and a lot sheerer. It's formula actually reminds me of a glaze (which I love.)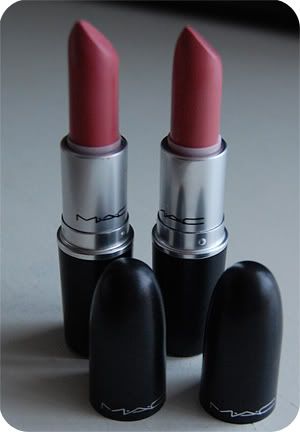 I'm wearing Please Me in this picture - it's my new everyday lipstick! It's perfect, subtly beige-pink yet still noticeable. I love lipsticks that are designed to be nude, because they come out very nicely against my skin, and get colour payoff instead of blending.
Completely nude lips make me look bizarre and corpse-like, so I'll stick to adding subtle colour.
I'm aware that I look rattled in this picture (this is what public transport will do to you) but I decided to be lovely and give you all a lipstick swatch.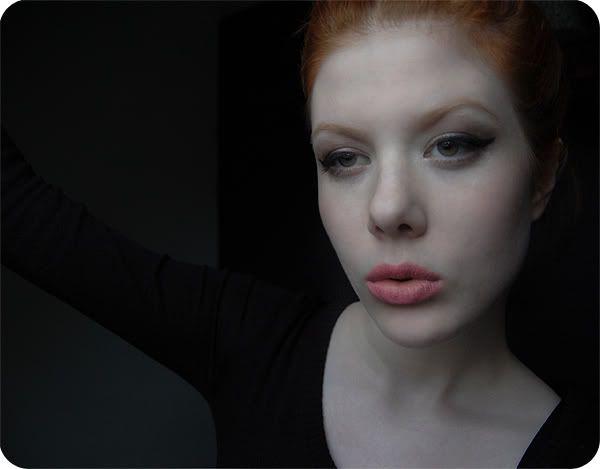 Fashion wise, my two new favourites ;
Mai Lamore shoes - art! If I had ten grand lying around...
Sharon Wauchob, amazing designer - makes everyday clothing haute. Her SS10 collection is to die for.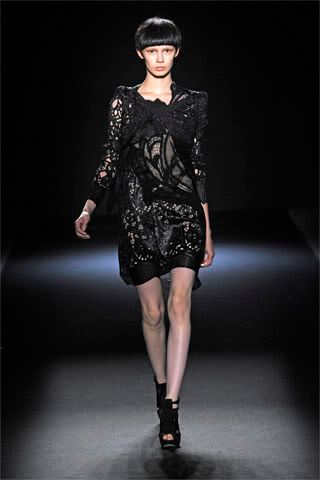 In an odd note, why are magazines giving away stranger and stranger 'free gifts' and samples? I bought Cosmopolitan today (no, I do not usually read it, but I already had bought the magazines I do read this month and wanted to read something...) Along with a strange black shiny bag, I received a huge sample of Lenor fabric softener, inviting me to 'choose my scent', whether it be fresh, invigorating, or seductive. Umm...
I have chosen another lovely scent though - perfume wise. I have large issues with perfume, having no distinct smell (as I am told) perfumes tend to not settle of my skin well. They smell slightly acrid (as they do when they come out of the bottle) since there is nothing there to mingle with. I like to wear Gaultier's 'Classique' but I've now found Thierry Mugler's 'Alien' which not only smells amazing as a lot younger than Classique, but has the added factor of coming in the most amazing bottle ever, in my favourite shade of purple. Rejoice!
Some reader asked me what colour my eyes really were, because they change in photos, so I tried to get a clear colour-correct daylight photo of them.
They change shade because of the colour of my eye makeup, or the lighting... In real life, they have a dark blue ring on the outside, a grey-green middle, and orange around the pupil.
I learned a few most ago that seretonin levels change your eye colour - very true for me, for a few years my eyes were a lot murkier and more brown, but then things changed and I was a lot happier with life, and my eyes turned a lot brighter and more blue...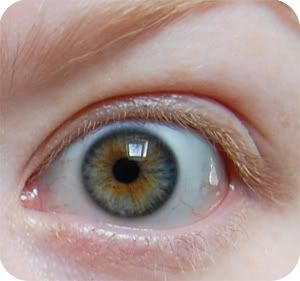 I've recently re-read Robert Elms'
The Way we Wore
(I love that title!) It's a fantastic book, extremely well written and witty. It reminded me of two bands I've forgotten to listen to in the past few months - Duran Duran and Spandau Ballet. I've re-educated my ears to their decidedly funky sound, and am now in the mood for dancing and crimping my hair or some other kind of fashion mishap, like bright blue eyeshadow reaching my brows.
Duran Duran - Come Undone
Spandau Ballet - To Cut a Long Story Short
Now, after my type-fest that I hope makes up for my lack of words lately, I'm going to go have some dinner. Have a great day!